My Week: MC Hammer (now of Cash4Gold)
Stop. Hammer time. A special MT treat: a week in the life of rapper-turned-entrepreneur MC Hammer.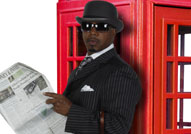 It's Monday and the Hammer's in town. London town. As soon as the wheels touch down I'm off the plane and heading to my hotel to freshen up. Today Cash4Gold and I have got a whole load of media interviews at Portland PR's offices ahead of tomorrow's announcement that I have become a partner at Cash4Gold.com, creators of mail-in gold buying.

There will be another BIG announcement!!! Back in September I asked the UK as part of a competition for the name of a UK celebrity to join me in a commercial. The British public answered my call and your man Goldie was top of the list. Who else would it be? So it's me and Goldie – drum 'n' bass legend - in the house. We're going to be in Cash4Gold's UK TV commercials together next year and it's going to be off the hook. It's a pretty hectic day with press coming in and out all afternoon, but that's no bad thing. We get some hot photos taken too!!!

Wendy Ford was the winner of our competition to name the UK celebrity. She correctly chose Goldie. So on Tuesday it's off to Gordon Ramsay at Claridge's to meet her for lunch. Nice place Gordon – we'll be back again sometime.

I notice today that The Sun is giving X-Factor's Olly Murs some stick about his tight trousers, maybe I should offer him some Hammer pants?

Wednesday and I'm boarding the train to Sheffield for some great charity work with Feed the Children. We continue Cash4Gold's global compassionate capitalism efforts and launch the Breakfast2 Live campaign. I have been involved in Feed the Children events for years and helped out following the natural disasters in the Pacific. With five kids of my own, helping kids is something important to me. Amazingly, we raised £10,000 for the charity by donating our £5,000 through the the Big Give website, whose sponsoring Reed Organisation matched us pound-for-pound.

In Sheffield we visit the Cash4Gold facilities before heading back to London. We hit some bad luck when one of the team goes to get us all some chicken sandwiches. The train pulls out before she gets on and she's left on the platform. How am I going to get my sandwich now?

Thursday – wheels up and I'm heading back to the States to the Bay... CALI... California. I spend a bit of time chilling out on the flight reading business books like Beyond The Cloud by Mark Benioff and Outliers.

Friday morning and it's time to hit the gym. It's been a busy working week so it's good to have some 'Hammer' time to work out and lift some weights. You gotta take care of yourself man. Then it's some quality time with the family. I'll take my four-year-old out for a cruise in the car then head to the studio. I'll spend some time recording and producing some music.

MC Hammer is a three time Grammy award winner and a partner of Cash4Gold.

In today's bulletin:
Greece is the word amid rumours of Budget bust-up
HMV profits from rivals' woes - but Waterstone's sales slide
JJB continues rehab as DSG man takes top job
Happier employees = unhappier managers?
My Week: MC Hammer (now of Cash4Gold)