My Week: Pod Food's Tim Hall
The entrepreneur behind the healthy fast food chain on new stores, new funding and new babies...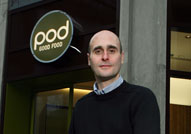 We've just opened our third outlet, in Liverpool Street, so I've been flat out overseeing the launch process. We've been doing lots of promotional activity to try to achieve maximum impact, targeting local businesses and the huge footfall of people in the area. We've had people in branded Pod uniforms on the street handing out full menus, along with discounts to get people into the store – we tend to find that once people have tried Pod, they quickly become loyal customers because the food's good. And we've also been doing lots of London based PR.
However, I've also been busy securing the final part of a new financing deal, which will allow us to open three more stores. We've raised £1m over the last four months, and that culminated in us signing one of the largest pieces of the deal last Friday. My whole objective was to try and get it signed off before Christmas, so I'm delighted we pulled it off. And I think it's because we've been delivering consistent like-for-like sales growth; even November was about 18% up on last year, so the business is still growing fast despite the tough climate. Experienced, serious investors have seen that trend and decided there's a very strong underlying business here.
I'd say to other entrepreneurs that funding is out there, but you need to have a seriously robust and compelling proposition. Anyway, it means we now have a strong cash position – property opportunities are starting to emerge, so the plan is to secure some prime locations over the next 12 months. This might happen in January, or not until August – it depends on availability,