My Week: QuickTV's Nick Bell
The youthful technology entrepreneur's recent trip to New York coincided with high drama on Wall Street...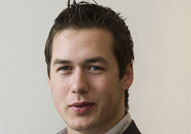 My week began on Sunday afternoon, heading to Heathrow for my flight to New York as part of Digital Mission, a UKTI-organised trip that took 21 of the UK's 'hottest' technology startups to the Web 2.0 Expo.
A very busy itinerary started on Monday morning with a trip across New York to the offices of legal firm Winston & Strawn, who were advising us how we best deal with trading in the USA. As QuickTV is a global business, with a large proportion of sales likely to come from the USA, this tax and operation advice may prove to be invaluable. Their offices – located on the 42nd floor of a high-rise in the centre of the financial district – provided a fantastic view over the city. But it was only upon leaving the offices that we became aware of the events that had been unfolding beneath us, with the news Lehman Brothers had filed for chapter 11 and various other financial institutions were experiencing serious difficulties.
The next day I had breakfast with some New York based venture capitalists – it was interesting to gauge their reaction to the events of the previous days, and also to hear their thoughts about the potential of technology in a difficult economic climate.