My Week: Richard Moross of Moo.com
The printing entrepreneur on trips to the US, hiring a new CFO, and Friday drinks on the terrace...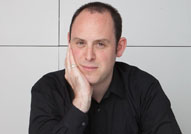 My week: Richard Moross of Moo.com

This morning I had a breakfast meeting with our chairman, Robin Klein, where I went through all the executive team planning for 2010. He was one of the first people I presented the business to in 2004 and he invested in the company later that year, before becoming chairman in 2006. We have a fantastic relationship, which is pretty lucky considering he's our chairman!

I've also been busy preparing for the arrival of our new CFO, who's joining us tomorrow. We appointed her last week and she's coming in for a few days from tomorrow and then starting full-time from January. It's actually a new role. We've been working with an interim FD for the last three years but now we've reached a certain size, there are complexities of running a profitable, high-growth manufacturing business. Now we're manufacturing in the USA and in Europe, with customers all around the world, it's important that we have someone with international financial experience who can help us manage our business in multiple locations.

Every day at about 5.30 I have a video call with our VP of operations, Brian, who's based on the East Coast. At the end of every day (around lunch time for him) we catch up on how each business is doing. We will also talk about any issues in the US office or anything that they've made progress on. In addition, he'll come over from the US once a month and I'll probably go to the US once a month to see him. The business is more operational in the US; our marketing, product and technology teams are here in London.

Business in the States is booming: around 40% of our revenue comes from sales there. We don't have all of our products available in the US, for various reasons, but we sell all our major ones there. We find the UK is more seasonal for us, in terms of the mix of the products we sell at Christmas for example. In terms of new customers that we're acquiring, and growth, the US is really driving the business at the moment.

I spend a lot of time the other side of the Atlantic. We have partners who are based in the US – people who we do marketing with, or have other relationships with - so I like to check in to see what they think of the service. It's also about the network – being a business that trades internationally we have ongoing relationships with people that we may form partnerships with in the future. I'll also try to schedule meetings with journalists while I'm over there. There are also a lot of conferences in the US, including two or three major ones that I'll go to every year – SXSW and Web 2.0 for instance. And I'll sometimes go over for speaking opportunities too: for example. I'm speaking at the PMA10 (photo marketing association 2010) conference in California in February.

Also this week I have a catch-up meeting with Nick Jenkins, the chief exec of Moonpig, the greeting cards company. I met Nick for the first time when I was first starting up my business and Moonpig was still relatively small. Despite what some people may think, there's not really any rivalry there. Nick's company is consumer-focused whereas we're b2b. So we sell to hundreds and thousands of small businesses, often in the creative industries – customers can be anyone from artists designers, illustrators, and photographers to tech start-ups.

Every Friday the entire UK team will sit down and have lunch together – and they do the same in the US five hours later. We'll order some food in from a restaurant or a local market and will usually follow the food with a presentation or two on cool new things we've built or designed recently. Also, I'll usually be there to give a brief overview of how the business is doing and give any feedback from the most recent board meeting. During the summer we tend to have events after work on a Friday as well. We have a big outside terrace, on the back of our office and we'll invite people from outside the company to come and hang out with us and have a beer. We're a pretty welcoming bunch. We're very international too – there are probably about 10 or 12 nationalities in the company, which is pretty good for a 50-person business. One thing we're very good at is hiring personalities. Everyone is quite unique and brings something different, which makes for a great blend of interesting people.

Richard Moross is founder and chief executive of Moo.com, a b2b printing company.