My Week: Robert Matthams of Shiply.com
The award-winning young entrepreneur on German expansion, team-building and media attention.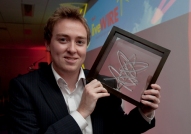 On Friday, I met with investors and then went to the Startups awards; we won 'Green Start Up of the Year', which was fantastic. We have been picking up a number of awards recently, which is so great for building our profile. I met a lot of interesting people and enjoyed a nice three-course meal with a colleague at the same time.

After a bit of a celebration back at the office in the afternoon (it was a lunchtime award ceremony!), there was still lots to do. It seems receiving these awards only drives us further and makes us want to work harder towards our goals, rather than sitting back and gloating! In the evening, however, I made time to go and watch one of my favourite live bands, Muse, at the O2. A supplier of mine owns a box there, although once they started playing I opted out and got into the crowd for a better atmosphere. It's important to still find the time to do the things you love.

On Monday, we had our weekly catch-up meeting with the team. We recently launched our German site Shiply.de, so we enjoyed hearing about all of the good press we're getting over there. I like to keep my Mondays free from external meetings and devote my time to the team, staying in the office and working on future strategy.

On Tuesday I started the day with a jog and then headed into the office. I met with a friend who is also starting his own business to offer a bit of advice; he has the drive, but lacks the direction or USP. I really like to surround myself with like-minded people with drive; if I can also help them along the way, all the better. It's a 2-way thing for me: I get inspiration and ideas from them too. I took an interesting call from a potential partner overseas and in the evening, managed to squeeze in a cinema trip.

On Wednesday, I was announced as one of the Future 100 young entrepreneurs. There was a do held in the city centre that evening, but unfortunately I couldn't make it, which was a real shame. Still, it was fantastic being part of the list. The day itself was a busy one with lots of supplier meetings and tying up of loose ends.

On Thursday, it was back-to-back interviews. Building a good team is vital, so I like to allocate lots of my time to finding the right mix of people, who'll be able to work well together and complement each other's skills. I also set up a few media interviews, lots of radio and even some TV interest - all of which is a great way for us to raise our public profile further.


Robert Matthams is the 25-year-old founder and CEO of Shiply.com, an online marketplace where people list items they need to move and then receive bids in a reverse auction format from over 5,000 rated transport companies going there anyway. By making use of spare capacity in lorries, consumers can save up to 75% on their deliveries - and reduce emissions. Robert was recently named as the Shell LiveWIRE Young Entrepreneur of the Year 2009.