My Week: Sam Harrison of Sam's Brasserie
The restaurateur on his best month this year, the challenges of Christmas and expansion plans.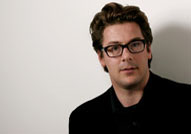 This week I've been preparing the management accounts for October. I have a book-keeper who puts them together for me, then we go through them line-by-line before sending them through to the bank manager – after which I had a conference call with him and my business partner to discuss it. Happily, October was our best month of trading this year. It's usually a strong month for us, as things pick up after the summer, but there is a feeling that people seem to be out and about and spending more. That said, November's gone fairly flat again – perhaps people are saving more this year because they know they'll have to spend over Christmas. Overall we're going to be pretty flat on last year – the industry norm seems to be about 10% down, so that's not bad. Flat is the new up!

I also spent half a day recruiting for a new sous-chef. Since the industry's fairly small and everybody knows each other, I tend to rely on word of mouth, particularly at that sort of junior management level (although there's also a few recruitment firms I use). So I spent a few hours making phone calls. I know that if I lose someone for good reasons – for example if there just isn't a senior position available for them – I'd much prefer them to go to someone I know. Hiring chefs is always hard because there just aren't enough good ones, and since we're quite high-volume – we might have 200 for Sunday lunch – it's quite full-on, so I need people with experience of that pace of service. But attitude's the most important thing for me. If we think someone has half a chance from their CV, we get them in to work in the kitchen. We can tell very quickly whether they'll fit in or not.

We've also been busy with Christmas planning. Although most of it's done (the menus, for example) we've been looking at a final push on our Christmas bookings – there's a lot in already (there are days when we're fully booked), but there are leads to follow up and provisional bookings to confirm. We've definitely had to work a lot harder for that business this year; lots of people aren't having parties, so in some cases we're having to tempt them out. We're closed for five days over Christmas, so I've been planning rotas for the period. When we open again on the 27th, there's a limited amount of fresh food available – it's quite hard to get fresh fish, for example – so we need to start thinking about it now. And then we have to get ready for New Year's Eve, which is a big function night for us. I've also been trying to get people to use up their holiday (though admittedly this week is my first holiday this year!).

I've also been loosely looking at a third site. We're in discussions with the landlord of a high-profile new-build – it's opening in July 2011, but if it comes off we'd probably be signing in February or March. At the moment I divide my time between the two restaurants – so I do lunch in Balham then dinner at Chiswick, or vice-versa. I love being on the floor, and I think it's quite unique to have the owner there, but I think it'll get much harder if we go to three restaurants – your role has to become more managerial. I have 65 staff on the payroll now, and if we open a third site we'll probably have 100. So your role has to become slightly different. If I put my name on the door it'd be ridiculous not to be there – but I'll probably be there as the owner, not the manager.

Sam Harrison is the owner (and front of house) of Sam's Brasserie in Chiswick and Harrison's in Balham, both of which are co-owned by Rick Stein.