MY WEEK: Stu Jolley, Wingman
Stu Jolley started Wingman off the back of Britain's Next Big Thing - now he's flown into Tesco stores and is even shooting promos on Lake Garda.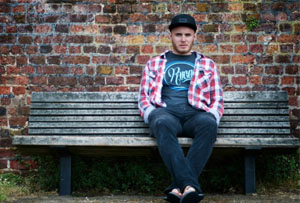 This week has been all about getting back into the swing of things: I was in Italy last week, shooting a documentary for my male grooming brand, Wingman.

We were filming wing-suit jumpers jumping off a cliff next to Lake Garda. I was a bit nervous – the idea was that they glide past the cliff face and pop their parachute over the lake. I had met their families the night before, so I felt a bit of responsibility. Everything went according to plan, though.

Wingman was launched into Boots in 2009 as a range of men's face and body wipes, off the back of the television programme 'Britain's Next Big Thing'. We received some investment from Will King, the man behind King of Shaves, and as a result of that we've just launched a range of men's toiletries into 500 Tesco stores.

In a couple of weeks we'll be down at Boardmasters music festival in Newquay, so we've been preparing for that. We've got 75,000 individual one-usage sachets that we're planning to take to key events.

A lot of what we do is about getting the brand out there: interaction is key. My business model is based on that of energy drinks, ie. building fans. If you're on the shelves at Tesco, people often just go for what's on offer that week, so we need to differentiate ourselves by building brand loyalty.

Part of the campaign is stickering. It sounds basic, but if you have customers who back your brand, they'll do the marketing for you – by getting them to put stickers on their surfboards etc, that's getting your brand outside the store.

It feels like there's definitely a gap in the market for Wingman. A lot of the established male grooming brands started off focused on female toiletries. From a brand perspective they've got so much heritage in the female market, so they tend to go over-manly to compensate for that. That's what we're trying to change.

We're about to move the business to Bristol, so we spent the week making preparations for that. I'm originally from the westcountry – Devon – so I know it's a bit of a lifestyle change from London, but I think it's important to make sure we get the work/life balance right. Also, we're doing a lot of marketing around surfers, and Bristol is a halfway point between Newquay and London.

My lifestyle is going to completely change. At the moment, I work from my flat in Surbiton, or from coffee shops. For the first year, we worked out of the King of Shaves office in Beaconsfield, and then we had a pop-up office near Oxford Street.

But now we're going to have an office in the new Templemeads Studios, right near the station in Bristol. It's our first proper office, which will be nice – and I'll be cycling in every morning. At the moment, I get up at around 7 o'clock and am at my desk by half eight. It won't be any different when we move to Bristol - I've never been one for the lie-ins, I see that as wasting the day. I've got too much to crack on with.

My problem when I'm working is that I tend to focus on the stuff I really enjoy, so sometimes I need to slap myself and say, time to focus on the stuff that's really needed. A lot of my working day is looking at sales reports from Tesco, making sure we've got stock availability and making sure the bottles are being brought into the right warehouse.

I generally try to get away from the office no later than 6 o'clock. If you leave at six, you give yourself quality time. It's my belief that if you stay completely consumed in your business you're not as efficient. And when you're a startup, that's dangerous.