My Week: Subway's Fred De Luca
The US-based founder of Subway tells MT about a visit to check up on his European franchise empire...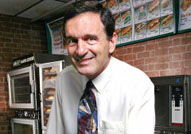 Thursday morning I went to work in our office in Connecticut. My wife picked me up at around two, when we drove to Newark airport and took a flight to Berlin for our German convention on Friday. There I met with our development agents for all over Germany, and in the evening had a welcome event for all the franchisees.
European franchisees have largely the same interests and concerns as those in the US - they're individuals who are looking for a way to do a little better for themselves. Most are builder types, who like the idea of having a store to develop. The big difference is simple: country size. In the US when you get a company going, you have a lot of running room, because the country is big. You can build up that head of steam and soon your project is going 100 miles an hour. Build up a head of steam in Belgium and you're not going very far.
In the US, when we were going through our big growth phase in the 80s, franchisees would say 'this is great, I think I'm going to move to Oregon or California and take the concept there'. In Europe if you do want to expand further, you have to start a new language, which means building a new team. So you can't easily move anywhere - even though there's freedom to work.