My Week: Will Critchlow of Distilled
The online reputation expert on his inability to switch off - and a new-found fondness for cognac.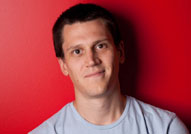 Last Wednesday was an exhausting day. I spoke at the ad:tech conference in London on online reputation where I gave away some tips and tricks we've learnt over the years. My responsibilities at Distilled have changed slightly – I've taken up the evangelist role really. I spend a lot of time speaking in public situations, but also talking one-on-one to prospective and existing customers about their online strategies. I was doing just that during a conference call with 30 people in the US Wednesday night. It's not unusual for me to work fairly unsociable hours and I tend to have an evening event one or two nights a week, either catching up with clients or attending industry events. I try not to work too crazy hours as my last job before Distilled was working as a management consultant, with very very long hours.

Thursday started with a game of chess with my brother who works for Distilled as well. We try and meet up before work about once a week and play chess in a coffee shop. Then it was straight into a sales meeting - I look after the sales side of things and the operational side of the business reports into my business partner, Duncan. We have a very strong partnership – we've known each other since we were at school and we are very similar; I'm probably a bit more extrovert, which is why I tend to do more client-facing stuff. Effectively I'm looking outwards from Distilled and talking to people we don't know yet and meeting new people, while Duncan runs the team and makes sure that we execute and deliver.

Friday morning started with a management meeting, which at the moment consist of just Duncan and I because the other member of the management team, Sarah, has just gone on maternity leave. This was one of our first meetings without her. The plan is for her to be gone about six months, but we don't think it should be too disruptive because we've got a pretty solid plan – or rather, she put a solid plan in place before she went. It's also given us a chance to re-evaluate the scope of the role. Despite being the COO, she was taking on quite a lot of administrative duties and as a result we weren't getting the most value out of her. Her being away gives us a chance to back away from all of that and hand it over to Lindsey, who is the new executive assistant.

On Saturday I went to the wedding of one of my wife's friends at Westminster. The bride's father is an MP, hence the location – I don't generally swan around places like that! Although I try not to work at weekends, I often end up doing so. I don't go into the office but I will catch up on emails and other little things that I don't have time to do during the week. So it made a change to be at wedding and not in an environment where I could work – it was definitely an iPhone off kind of affair. I wouldn't say my wife thinks I've got the work/life balance exactly right, but I think I'm getting better at it now. She edits a trade magazine so her job is demanding too, but it tends to be more during the week and in the evenings rather than at the weekend.

And then on Tuesday I headed over to the offices of Courvoisier's PR company because I am an ambassador – as ridiculous as that sounds – for the Courvoisier Future 500 network. I was in the network in its first year so I've been reasonably involved with it since then, and this year they picked 10 ambassadors. So this week it was just about making some final decisions about this year's list. It's not all hard work though – Courvoisier has given me more cognac than I can ever drink.


Will Critchlow is the co-founder of online marketing specialist Distilled. Critchlow, an online reputation specialist, was hired by Storm model agency to handle the online fallout from Kate Moss's cocaine scandal.