The weekend starts now (well, at 3.42)
If you're reading this before 3.42pm on Thursday afternoon, be warned – it won't be long before your team's attention drifts off, not to be seen again until Monday morning (and not even then, in some cases).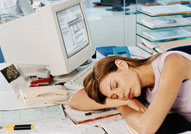 According to car giant Vauxhall, that's the precise moment when UK workers stop thinking about work and start dreaming about the weekend.
With Thursday now being 'the new Friday' (or so MT is reliably informed), employers are seeing more and more signs of 'weekend creep', as the two-day break encroaches further into the working week.
Your star employees might look like they're pouring over a spreadsheet, but actually their thoughts have already turned to lie-ins, fondue parties and trips to B&Q (or maybe that's just us?).