Welcome to the success factory
Contrary to popular mythology, entrepreneurs don't have to be visionaries, and winners can be manufactured, argues Eric Ries, the author of The Lean Startup.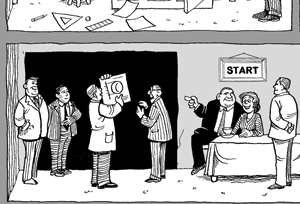 In magazines and newspapers, in blockbuster movies and on countless blogs, we hear the mantra of successful entrepreneurs: through determination, brilliance, great timing, and - above all - a great product, you too can achieve fame and fortune. There is a mythmaking industry hard at work to sell us that story, but I have come to believe that the story is false, the product of selection bias and after-the-fact rationalisation. In fact, having worked with hundreds of entrepreneurs, I have seen at first hand how often a promising start leads to failure. The grim reality is that most startups fail. Most new products are not successful. Most new ventures do not live up to their potential. Yet the story of perseverance, creative genius and hard work persists. Why is it so popular?
Entrepreneurial Management
There is something deeply appealing about this modern-day rags-to-riches story. It makes success seem inevitable if you just have the right stuff. It means that the mundane details, the small individual choices don't matter. If we build it, they will come. When we fail, as so many of us do, we have a ready-made excuse: we didn't have the right stuff. We weren't visionary enough or weren't in the right place at the right time.