Welcoming fresh blood, with YouTube
Tips on bringing in new recruits - from the Office, Being John Malkovich and Apocalypse Now.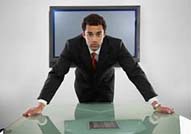 Make sure you've thought the appointment through. The Office's David Brent decides that he may be laying people off, but he still needs a new secretary. And he doesn't exactly try to hide his ulterior motives. This clip also includes Brent's timeless advice for how to deal with tough times: 'They've got to trust me - I'm taking these guys into battle, and I'm doing my own stapling?'
Give the new person the best possible start. Show them how the business runs - what is expected of them, how the culture operates and any quirks that would help them. If, like the company in Being John Malkovich, your office is on the seven-and-a-half floor, tell them why that is.
Pass on your wisdom. Especially if the new person is replacing you. And if you're the one coming in, soak up everything you can. Listen to what they say, watch how they act, and glean clues about the business from what they're not telling you. Just hope that, unlike Colonel Kurtz's classic speech from Apocalyse Now, it's not all a load of Gardenias.