'We're moving to a gig economy, where most people will bid for jobs' - Charles Handy
YOU LIVE AND LEARN: The management guru on the Bible, dealing with change and having more time on our hands.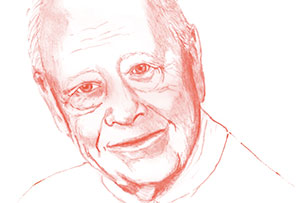 When I joined Shell, they said they hoped I'd have a very long and happy life with them. But after 10 years, they told me to run a company in Liberia, which wasn't me, so I moved on. It would have been disastrous. I'd have had my big company career, probably taken early retirement, got a good handicap and then died at the age of 70.
I spent the next 10 years teaching at London Business School. At the time, there was no language of management. There were no books on it in England until I wrote Understanding Organizations in 1976. I left because you can't learn management from a book. We should treat it like any other profession, a mix of tutored apprenticeships and classroom.
We spend too much time reacting instead of actually creating stuff and thinking about how to do things differently. Being overloaded with information is quite stimulating, but it's hard to focus in a multitasking world.