West Coast Main Line railway starts with a bang
Britain's modernised 'high-speed' railway is finally here - and, predictably, blew a fuse within hours...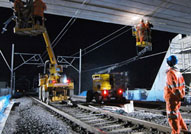 Today marked the first day of the new West Coast Main Line timetable, after a decade-long £9bn 'modernisation' programme that has caused endless delays for long-suffering rail passengers. And you may not be surprised to learn that it only took until 7.30am for a fault to appear, when a fuse blew in north-west London. Not exactly the kind of start to inspire confidence that we're entering a new era for rail travel – particularly since our modernisation programme still leaves us years behind the high-speed railways in other countries…
Network Rail has promised passengers a 'quantum leap' in service now that the upgrade work has been completed – and not just because we won't have to crawl through Nuneaton at 10mph every weekend. Apparently there'll be an extra 1,100 trains every week, while journey times will come down by almost a third thanks to the new 'high-speed' track, which will allow 125mph tilting trains to travel from Glasgow to London in about four-and-a-half hours.
Sadly the new route didn't get off to the most auspicious start: a fuse blew in Willesden at 7.30 this morning, closing two of the four tracks in the area and causing well over an hour of delays while engineers fixed the problem. There were always likely to be teething problems with the new track – but after all the problems Network Rail has had with the upgrade (including a record £14m fine for delays last January), this was the last thing it needed.