WH Smith fuels high street optimism
Amid signs that high street prices may be stabilising, WH Smith has surprisingly posted a profit hike...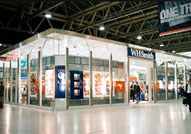 After years of decline, many expected WH Smith to be one of the major casualties of the current spending slowdown. But for now, it seems to be defying the gloomy predictions: in the year to August, group pre-tax profits were up 15% to £76m, thanks largely to the success of CEO Kate Swann's cost-cutting measures and a 14% jump in its Travel profits (i.e. from its airport and station stores). This beat analyst forecasts, suggesting there's life in the old dog yet. And with the British Retail Consortium reporting that annual shop price inflation fell last month for the first time in ages, perhaps the same is true of the High Street as a whole?
The interesting aspect of the WH Smith figures was that the profit hike came despite a 2% decline in like-for-like sales (although Travel fared slightly better than its high street stores, and the effects of new retail space took group sales up 4% to £1.35bn). However, Swann's ongoing cost-cutting efforts ensured the retailer ended the year in the black: in the last year she's been steadily changing the retailer's product mix away from low-margin items like DVDs and CDs, which has boosted margins, and also been trimming costs across the group. All in all she's already managed to lop £8m off the cost base, and has apparently identified another £10m of savings for this year.
All of which is good news for shareholders, and presumably also good news for the high street. As, in fact, was yesterday's news from the BRC that their UK Shop Price Index recorded annual inflation of 3.6% in September, down from 3.8% in August. With the oil price coming down, more price cuts are expected – and thanks to yesterday's interest rate cut, shoppers will hopefully have a little more money to spend too. Of course we're still a long way from a full-blown recovery on the high street – as pasty-maker Greggs will attest, having slashed its profit forecast today – but at least there are signs of life.