WH Smith in recovery position
For most of us, spending time in airport departure lounges is a pretty unpleasant experience these days (just look at the slating Heathrow has taken this year). However, WH Smith CEO Kate Swann may be one of the few people to view these thinly-disguised shopping malls with considerable affection.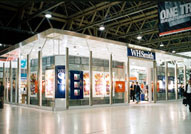 WH Smith said today that its pre-tax profits for the full year to August were up 29% to £66m – at a time when other retailers are complaining that the miserable British summer has been keeping the customers away.
And the better-than-expected results were largely due to its outlets in airports, railway stations and motorway stops. Perhaps we were all just desperate to escape the rain?
It's another sign that the retailer is continuing its recovery under the leadership of Swann, who took over in 2003 ahead of the company recording a £135m loss. Its push into the travel market – a key part of her turnaround plan – is certainly delivering, with these outlets showing 2% sales growth and a 16% increase in profits.