What's the big idea?: 'Boundaryless organisation'
This somewhat startling oxymoron came into vogue in the late 1980s and early 1990s, promising a world beyond stifling hierarchy, siloed divisions, confused matrices and tribalistic regions.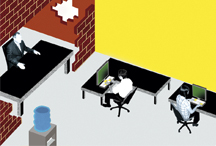 Jack Welch used the concept to break through the iron-clad architecture of GE and scholars such as Steve Kerr (Welch's chief learning officer at the time) and Dave Ulrich popularised the idea. Of course, no organisation can function without boundaries - they just sometimes become less visible. Neither might it be desirable - boundaries can actually foster freedom by making people feel safe. Yet it is true that people often cling to structures of authority and accountability out of fear of freedom and personal responsibility. But we can be more grown-up: there are great organisations out there which have discovered that fluid, self-organising regimes are better able to master highly dynamic business environments.