What's the big idea? Neuro-linguistic programming
If you wanted to think of a name for a school of therapeutic practice that would scare off non-aficionados, what better than this obscure and pretentious label?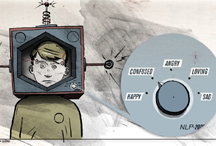 NLP is an assembly of ideas about how we experience the world, about the role of language in thought, and about how we get programmed for success and failure by the ways we use our senses and thoughts.
As a result, NLP has many devotees in areas of therapy and practice, including such fields as sales, sport and stage psychology. This is because at several levels it works, while also being cumbersome, confusing, disconnected and ritualistic. Dig around in its entrails and you'll find some attractive and useful ideas about how we can change our states of mind, especially in times of stress and difficulty, by methods of memory and focus; how we let language dictate our reason; and how the secret to a fulfilled and happy life is congruence between our levels of awareness. Yet, it is fair to say, that, because of its fragmentation and incoherence, its impact on management and academia have been modest at best.