What's the big idea? Vision
I have a dream, follow me.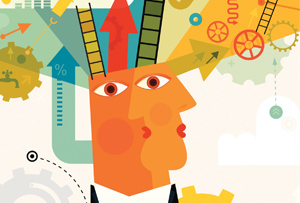 I had a dream. I apologise. I am in a dream, help me! Do we really want leaders who sit in darkened rooms and work themselves into fantastical states of mind, or stand on hilltops imagining lost worlds to conquer and heroic sagas to live?
Hindsight tells us to beware such buffoons, yet our biology seems to nurture a yearning for their magic. The vision thing is the fool's gold of leadership - debased in a thousand corporate mission statements and vacuous speechifying, and lauded by countless managements with their calls for 'transformational' styles, when what is needed is the courage of honesty, realism and soundly based belief.
This is the 'eye' and the 'I' of leadership. The eye is the leader's duty to try to see what others can't, not through special powers but by virtue of vantage point and endeavour. The leader scans the environment, seeks out the wisdom of understanding, and then opens the eyes of others with a compelling narrative of what is happening, why, and the choices the organisation faces.