What's privacy worth?
The business of personal data is booming and the web giants will stoop pretty low to get hold of yours. If only they put half as much effort into showing they can be trusted with it, says Simon Caulkin.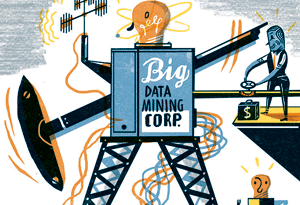 When a mid-21st century son of 1980s oil-baron soap Dallas is made, it won't be about oil. It probably won't be broadcast on what we know as TV either, or indeed be broadcast at all.
That's because the next business to boom in the way that oil did looks set to be personal data and identity, and this weightless new asset class has the potential to do to broadcast media what the internet has already done to the press.
Like oil, as well as disrupting older industries, it will also fuel a whole range of new ones. And it is already throwing up a comparably colourful cast of heroes and villains - social media, Google, credit agencies, hopeful start-ups, trolls, regulators, security agencies and governments, among many other more shadowy ones that we've never heard of - even if it's often hard to tell which is which.