What's professionalism worth? About £152,000
New research reveals the lifetime value of professional qualifications: £152,000 in additional earnings.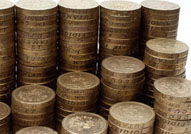 Ker-ching! What's more, the report – launched at a House of Commons breakfast held by the Chartered Management Institute on Tuesday morning – finds that being professionally qualified makes you 9% more likely to be in employment, 37% better paid and likely to contribute an additional £53,000 in tax to the treasury's coffers, compared to those unfortunates who have not had the foresight to gain professional status.
These are no mean claims, especially in today's troubled economic climate. Anything which manages to boost your pay and makes you more employable at the same time has to be worth examining in more detail. So here goes. The paper is a weighty tome entitled – in suitably impenetrable academese – An Economic Impact Assessment of the CCPMO (for those who don't know, the CCPMO is the Consultative Committee for Professional Management Organisations).
Jointly commissioned by eight professional bodies (including the CMI, Chartered Institute of Personnel and Development and the Chartered Institute of Management Accountants) with over 560,000 members between them, it's a thorough and diligent undertaking, based on data from six consecutive quarters of the government's own Labour Force Survey and performed by respected consultancy London Economics. Very definitely not the usual 'we emailed all our mates to ask what they thought about [insert burning issue here]' PR survey.