Wheels come off at Halfords as profits drop 25%
The car parts and bicycle retailer has revealed its pre-tax profits have plummeted by almost 25% compared with last year to £71m.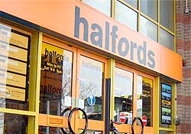 It seems the disappointing spring has not borne the usual crowds of fair weather cyclists through the doors of the chain's 450 stores. The results are a turn for the worse for the retailer, whose fortunes were looking up briefly last year following a surge in cycling sales spurred on by the success of our Olympic cyclists. But it seems the 'Wiggo' effect can only do so much in the face unseasonably bad weather and rising costs.
There was some goods news as revenues inched upwards by 1% to £871m. The car parts and maintenance side of the business has continued to enjoy strong revenues despite a fall in sales at retail outlets.
In a bid to turn the fortunes of the company around more permanantly, CEO Matt Davis has announced a major investment push which he admitted would cut shareholder dividends by a third from 14p to 9.1p. Predictably investors don't much like the sound of that - Halford's share price dropped by 14% in early trading.

He has also given his grand plans a name - Getting into Gear 2016. Catchy eh? It reportedly involves spending £100m a year modernising stores, improving customer service and rebooting its digital infrastructure. 150 key stores nationwide look set to receive half of those funds, to build larger cycling sections filled with accessories.