Where's the dough in artisan bread?
The run-of-the-mill British loaf is being put to shame by the exotic output of more caring bakers - and their 'gastronaut' customers are staying loyal despite the downturn. But are there easier ways to make a crust?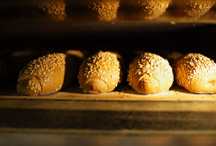 Those who frequent farmers' markets and delicatessens might assume that the long-running food revolution has finally caught up with our daily bread. Visit London's Borough Market and you'll find stalls for outfits like Flour Power City and De Gustibus groaning with lovely looking loaves and toothsome baked treats. Their breads are things of beauty - huge sourdoughs shaped by hand, dense, chewy ryes and focaccias glistening with olive oil and salt. They're about as far from a loaf of industrial sliced white as Parma ham is from Spam.
Of course, beautiful bread costs. A basic supermarket medium white loaf, made using the high-speed, industrial Chorleywood bread process, is about 75p. Its artisanal equivalent is likely to be around £2 - and the more esoteric breads, notably the sourdoughs, are usually a lot more. However, it's a price that the middle-class gastronauts who form the bulk of shoppers at these places seem happy to pay. Perhaps the ultimate in upmarket artisan bread is found at the Hobbs House Bakery in the Cotswolds. Here, Britain's most expensive loaf retails at £21, but it is a 2kg monster and the price includes courier delivery.
But are these upmarket loaves really evidence of a genuine revolution in the bread we eat? Or is talk of large-scale change a case of the metrocentric, middle-class foodies projecting their values on the Mother's Pride-loving masses? And, given the prices these loaves command, is baking artisan bread an easy way to make lots of dough?