Whistleblower sets off HSBC investigation
Britain's largest bank has found itself under an HMRC investigation after allegations that it has opened offshore bank accounts for known criminals living in the UK.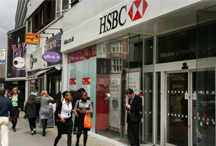 You've guessed it; the saga of banking scandals has gone up yet another gear. Today it emerged that tax authorities have got their hands on the details of every single British HSBC customer in the Isle of Jersey. Why? A whistleblower covertly handed over a list of names and addresses of clients (as well as their bank balances) earlier this week, apparently including a string of known criminals. We can see that catching the public's attention...
Reports today said that the list identifies around 4,300 people who collectively hold about £700m in offshore current accounts. The list is thought to include several known criminals include drug dealers, fraudsters and computer hackers. HSBC is already under fire from US authorities over breaches of money-laundering regulations, which have already landed the bank a $1.5bn fine. The situation could get worse if it emerges that the bank knew that some of its clients were criminals, as it is legally required to get in touch with authorities if it is suspicious about where any of the money deposited in its accounts came from.
A spokesman for HMRC said: 'We can confirm we have received the data and we are studying it. We receive information from a very wide range of sources, which we use to ensure the tax rules are being respected. Clamping down on those who try to cheat the system through evading taxes and over claiming benefits is a top priority for us and we value the information we receive from the public and business community.'