Whitbread's new CEO is hungry for improvement
As sales growth slows, can Alison Brittain give Costa Coffee a revamp to prevent it from going stale?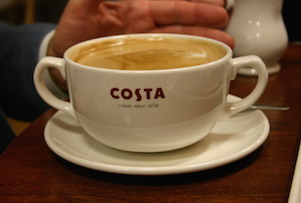 Alison Brittain has just taken the reins at Whitbread, and she's clearly keen to make her mark. The former head of retail banking at Lloyds has just announced a plan to trial digital ordering for Costa customers as part of plans to keep the group's brands, which also include Premier Inn and Taybarns, 'relevant and fresh'. Looking at Whitbread's latest financials, it's easy to see why.
Its third quarter results aren't bad – far from it – with a 10.4% increase in sales driven by strong growth in Premier Inn, but overall revenue growth was slower than predicted. Like-for-like sales grew by 3.5%, compared with market expectations of 4%, and Costa Coffee's like-for-likes were down from 4.5% in the first half to 2.5% in the third quarter.
Strong brands like Costa Coffee and Premier Inn are an asset but can also be a disadvantage if you become too reliant on them or complacent about their appeal to customers. Brittain has evidently honed in on this pretty quickly. While noting 'we have fundamentally a structural growth business and a strong one' with 'the nation's favourite coffee and hotel brands', she also acknowledged there was a challenge to keep them ahead of the competition.