Whitehall opens 'pop-up' retail space in Victoria
A Whitehall department has begun a new 'pop-up-shop' initiative to help entrepreneurs get their retail attempts off the ground.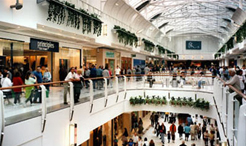 The Department for Communities and Local Government announced today that it is opening a 'pop-up' style scheme in its Victoria Station HQ, giving retailers a temporary low-cost floor space solution to get the ball rolling.
Every fortnight, six start-ups will be allowed to move in to the space, splitting the costs between them and showcasing the products to the public for the first time. Ministers involved are hoping that the initiative will trigger a trend of using empty space for similar projects in places throughout the UK.
The Communities Secretary, Eric Pickles, said: 'We are absolutely determined to support the high street and we know pop-ups are a great way to bring empty shops back to life and get new businesses going.' He added: 'It will also showcase how we can unleash more of our best and brightest young entrepreneurs on to the country's high streets.'