Whither Ocado as Fairfield fails to float
A planned £330m IPO by Fairfield Energy has been dropped, prompting rumours that Ocado's may follow.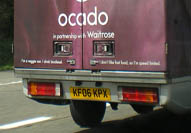 The oil exploration company's listing on the LSE would have been one of the biggest so far this year, but was dropped at the last minute because of 'difficult market conditions'.
Its failure has called into question the next big London IPO, that of chi-chi online supermarket Ocado. If jittery investors don't even like the look of something as economically fundamental as an oil business – not for nothing is the stuff known as Black Gold – what hopes for a slickly branded but unprofitable and capital-hungry niche retailer?
Fairfield – which had it floated would have become one of the largest independent North Sea oil businesses – was planning to sell up to 50% of its equity for a minimum of £330m.