Whittard of Chelsea teas up administrators
Whittard of Chelsea, the Iceland-owned high street chain, looks set to become the latest crunch casualty...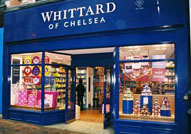 Reports this morning suggest that Whittard has lined up Ernst & Young to step in as administrator – possibly as early as this afternoon – after its Icelandic owner Baugur's funding dried up. The high street chain, which sells posh teas and coffees (plus related accoutrements) and employs about 500 people, must now be in serious danger of collapse. It's yet another indication of how tough things are getting for Britain's high street retailers – particularly those with penurious Icelandic bankers...
Baugur bought Whittard in 2005 for a generous £21.5m, at which point it had already been trading for 119 years – founded by Walter Whittard in 1986 as a tea company, it later expanded into coffee and moved to Chelsea after a Second World War air raid. After rapid growth in the 1980s and 1990s, it now has about 130 stores across the UK. But the chain, which relies heavily on flogging its wares to unsuspecting tourists looking for a 'genuine taste of England', suffered from the decline in tourism after the 7/7 bombings. And like most niche retailers, it's struggled to cope with competition from bigger rivals (including the big coffee shop chains).
However, things have gone from bad to worse this year thanks to the woes of its owner Baugur, which along with the rest of the Icelandic economy has fallen into dire financial straits. As Landsbanki cut back its funding lines, it decided to put Whittard up for sale – but despite the relatively measly price tag of £1m, nobody is apparently willing to pay the full whack. The only good news is that there has been some interest from trade buyers and restructuring specialists – so it could end up going into a 'pre-pack administration', where a buyer has already agreed to buy it out with reduced liabilities. In other words, there's still a chance the brand could survive.