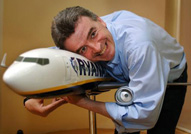 Who said it?
"Personally, I wouldn't trust 'O'Really' to tell me the price of a seat on his own airline, but to be fair his position does have the support of such intellectual heavyweights as Nick Griffin, Sarah Palin and George W Bush." - Greenpeace activist Joss Garman takes a dim view of Micheal O'Leary's assertion that 'there's absolutely no link between man-made carbon... [and climate change]'.
Published: 10 Sep 2010
Last Updated: 09 Oct 2013
Find this article useful?
Get more great articles like this in your inbox every lunchtime