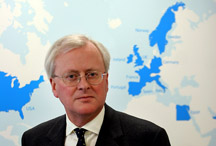 Who said it?
"Bringing in a chairman from outside can mean succession planning has gone wrong" - headhunter Peter Waine, of Strand Hanson, criticises HSBC after Barclays CEO John Varley allegedly turned down the chairman job.
Published: 13 Sep 2010
Last Updated: 09 Oct 2013
.
Find this article useful?
Get more great articles like this in your inbox every lunchtime