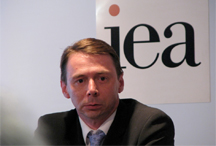 Who said it?
'The idea that the public should rally round these 'oppressed' public workers is ludicrous' - Institute of Economic Affairs director-general Mark Littlewood vents his spleen after research by the think tank revealed on average, public sector workers are paid £74 a week more than their private sector counterparts.
Published: 15 Sep 2010
Last Updated: 09 Oct 2013
.
Find this article useful?
Get more great articles like this in your inbox every lunchtime