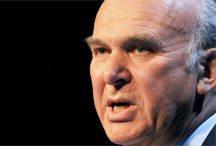 Who said it?
'It's exhausting because you have to fight to keep the duvet' - in a slightly different approach from Lib Dem leader Nick Clegg, Vince Cable admits that teaming up with the Tories isn't as positive as some would have us believe.
Published: 23 Sep 2010
Last Updated: 09 Oct 2013
.
Find this article useful?
Get more great articles like this in your inbox every lunchtime