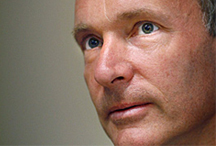 Who said it?
'Disconnection from the internet is a form of imprisonment' - Internet inventor Sir Tim Berners-Lee may be overstating his claim a little as he argues against a clause in the Digital Economy Act, which could bar those accused of breaking copyright law from accessing the internet.
Published: 29 Sep 2010
Last Updated: 09 Oct 2013
.
Find this article useful?
Get more great articles like this in your inbox every lunchtime