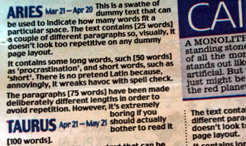 Who said it?
'It's extremely boring if you bother to read it' - A, er, 'production issue' on the horoscopes page of yesterday's Daily Mail meant those seeking guidance from the stars were instead confronted by a page of dummy text. Let's be honest, though - it was probably just as useful as the horoscopes...
Published: 12 Oct 2010
Last Updated: 09 Oct 2013
.
Find this article useful?
Get more great articles like this in your inbox every lunchtime