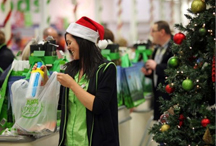 Who said it?
'Shop with your head, not your stomach' a spokesperson for comparison website mySupermarket warns that shopping for Christmas food early might be tempting now, but won't save you money in the long run - in fact, thanks to cynical supermarkets jacking up their prices, it may actually cost you double. Apparently, it's best just to wait for December to roll around...
Published: 19 Oct 2010
Last Updated: 09 Oct 2013
.
Find this article useful?
Get more great articles like this in your inbox every lunchtime