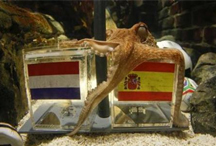 Who said it?
'You are less reliable than a dead octopus' - In what appears to be a homage to Paul the octopus, who rose to fame during the world cup but shuffled off this mortal coil last week, Tory deputy chairman Michael Fallon dismisses claims by the Chartered Institute of Personnel and Development (CIPD) that 1.6m jobs will go as a result of the austerity measures.
Published: 03 Nov 2010
Last Updated: 09 Oct 2013
.
Find this article useful?
Get more great articles like this in your inbox every lunchtime