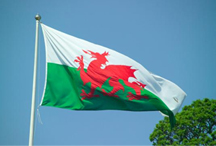 Who said it?
'The bid for the domain name is principally to promote Welsh culture and the Welsh language,' Siôn Dobbins, of campaign group dotCYM, tells the Independent that Wales will be seeking a new internet domain name after losing out to the Cayman Islands in a four-year battle to secure the domain '.cym.' What'll probably be even more painful to Welsh nationalists is the reason why they lost out - the tiny island with a population of 60,000 is recognised as a state, while Wales is deemed part of Britain. Ouch.
Published: 05 Nov 2010
Last Updated: 09 Oct 2013
.

Find this article useful?
Get more great articles like this in your inbox every lunchtime