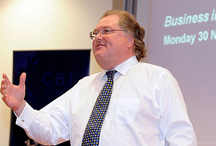 Who said it?
'They really understand commercial diplomacy. Gordon didn't get it. He thought business was suspect. Cameron thinks, "Great!"' - Labour-appointed peer (and former trade minister) Digby Jones praises the Coalition's gung-ho approach to trade missions.
Published: 11 Nov 2010
Last Updated: 09 Oct 2013
.
Find this article useful?
Get more great articles like this in your inbox every lunchtime