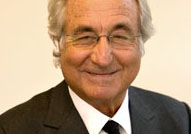 Who said it?
"He loved shoes and spent a lot of money on 250 pairs, some never worn," - auctioneer Bob Sheehan details some of the items on auction for the victims of arch-fraudster Bernard Madoff. The ex-Wall Street financier is serving a 150-year prison sentence after a £50bn swindle. Other items to go under the hammer include 11 pairs of boxer shorts and 138 pairs of new socks.
Published: 12 Nov 2010
Last Updated: 09 Oct 2013
.
Find this article useful?
Get more great articles like this in your inbox every lunchtime