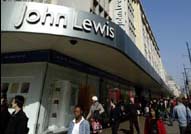 Who said it?
'You go to John Lewis to buy a sofa or a fridge, not to have chemotherapy.' - Tony Woodley, joint general secretary of Unite, tells the Guardian that John Lewis-style co-operatives - which are being proposed by the government to shake up the public sector structure - won't be popular with the general public.
Published: 18 Nov 2010
Last Updated: 09 Oct 2013
.
Find this article useful?
Get more great articles like this in your inbox every lunchtime