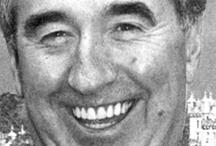 Who said it?
'Somebody else might do the spiel to start with, but I'll always do the 'bootiful' bit at the end' - Turkey twizzler tycoon Bernard Matthews, who passed away today at the age of 80, explains in a 2003 interview with the Financial Times why his company won't be the same without him.
Published: 26 Nov 2010
Last Updated: 09 Oct 2013
.
Find this article useful?
Get more great articles like this in your inbox every lunchtime