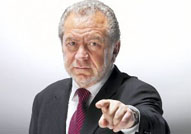 Who said it?
'Anyone catch the BBC show on Donald Trump last night. Modest fellow don't you think!' They may both have the Apprentice in common, but according to this sarcastic tweet from Lord Sugar that's where the similarity ends (at least, we hope it's sarcastic).
Published: 29 Nov 2010
Last Updated: 09 Oct 2013
...
Find this article useful?
Get more great articles like this in your inbox every lunchtime