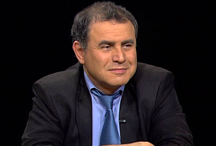 Who said it?
'At the moment, the policy is still lend, pray and hope this is a liquidity problem and not a solvency problem.' - The Telegraph reports that although economist Nouriel Roubini (also known as 'Dr Doom') expects the global economy to grow by 4% next year, the troubled eurozone still poses a risk.
Published: 15 Dec 2010
Last Updated: 09 Oct 2013
.
Find this article useful?
Get more great articles like this in your inbox every lunchtime