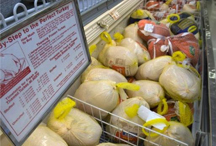 Who said it?
'For the sake of a £20 turkey, people risk a criminal record that could see them barred from a number of professions, limiting their future career options' - A spokesman from security firm G4S tells the Daily Mail that supermarkets are putting tags on turkeys to stop them being pilfered by people hard-up during the festive season.
Published: 21 Dec 2010
Last Updated: 09 Oct 2013
.
Find this article useful?
Get more great articles like this in your inbox every lunchtime