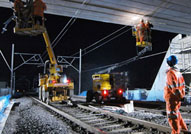 Who said it?
'I wish Mr Gisby well on his next visit to Planet Earth. If he honestly thinks the network is working normally today it does not give any of us much hope for the future.' A commuter in today's Metro responds to Network Rail director of operations and customer services Robin Gisby's reassurances that the network was running smoothly and 'working well'.
Published: 23 Dec 2010
Last Updated: 09 Oct 2013
...
Find this article useful?
Get more great articles like this in your inbox every lunchtime