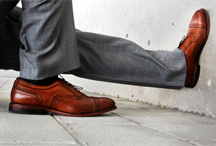 Who said it?
'Change your shoes once a day. With 'fresh' shoes you will feel better and will improve your performance at work.' - UBS says it's rethinking a 44-page dress code it issued in December after it provoked a wave of ridicule. The code tells women how they should apply makeup, how men should knot their tie, and advises employees to avoid garlic and onions for lunch.
Published: 18 Jan 2011
Last Updated: 09 Oct 2013
.
Find this article useful?
Get more great articles like this in your inbox every lunchtime