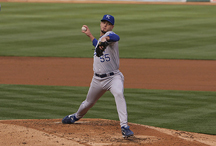 Who said it?
'I didn't want to be the guy making $12 million doing absolutely nothing to help their team,' - Baseball pitcher Gil Meche explains that he's giving up his $12m salary after a shoulder injury meant he no longer felt he was contributing to the team. (Perhaps an idea certain bankers might like to take into consideration...)
Published: 28 Jan 2011
Last Updated: 09 Oct 2013
.
Find this article useful?
Get more great articles like this in your inbox every lunchtime