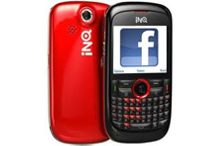 Who said it?
We believe with great features and great integrations, every phone can become sociable,' - Today sees the launch of the 'Facebook phone' - an Android smartphone by INQ Mobile designed expressly for 18-28 year old Facebook users.
Published: 11 Feb 2011
Last Updated: 09 Oct 2013
.
Find this article useful?
Get more great articles like this in your inbox every lunchtime