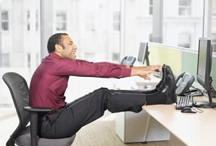 Who said it?
'Findings from this study suggest that this pedal machine may be a feasible tool for reducing sedentary time while at work.' - Scientists in the US have raised the possibility of placing portable pedal machines in every office to improve the health of workers who sit in front of their computer all day. The researchers, writing in the British Journal of Sports Medicine, are also investigating mini exercise bikes.
Published: 15 Feb 2011
Last Updated: 09 Oct 2013
.
Find this article useful?
Get more great articles like this in your inbox every lunchtime