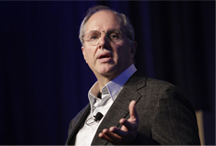 Who said it?
'The resulting creativity and invention will open up a whole new world of possibilities for computing' - Craig Mundie, Microsoft's chief research and strategy officer, says the company's taking a novel approach to tackling hackers: by opening up the Xbox Kinect software to amateur software enthusiasts. If you can't beat 'em...
Published: 22 Feb 2011
Last Updated: 09 Oct 2013
.
Find this article useful?
Get more great articles like this in your inbox every lunchtime